The 13 people portrayed; indigenous, african-americans, Latinos, represents the 13 stripes of the American flag, or the 13 colonies made in after image, showing that we are not equal before the constitution

keywords: border, anti-colonial, ethnicities, people of color, indigenous people, black people, latinos, american flag, constitution, after image

✹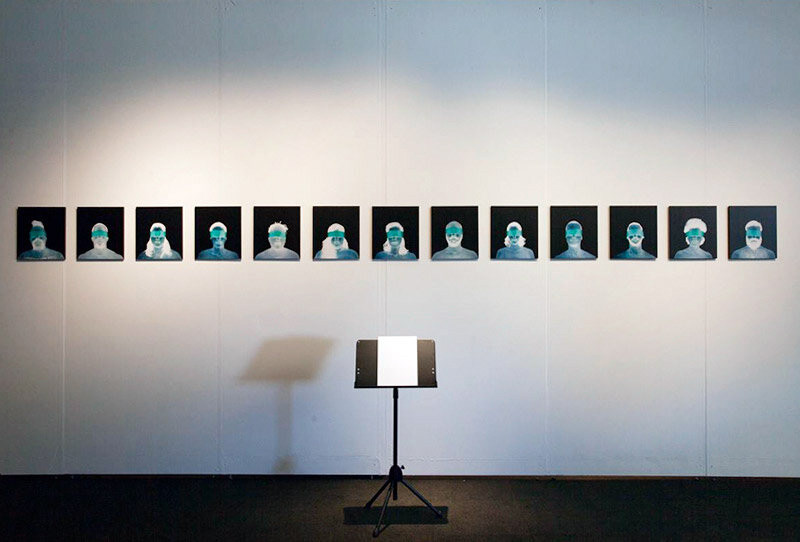 Reproductions in larger formats of biometric photographs, rehearsing the identification even in face of a democratic narrowing. The search for identity from its source in a space in biopolitic crisis and the consequence of colonization.
The 13 people portrayed; indigenous, african-americans, Latinos, represents the 13 stripes of the American flag, or the 13 colonies.
The "afterimage" effect in the work, suggests a reveal not only of the pictures in question, but a reflection. When the experiment is performed and the viewer looks at the image of the negative for 30 seconds, the eyes will search to continue the image on a blank space. Physiologically, the brain and the eyes seek equilibrium and so the image is revealed in its positive state.
The negative view that the works are arranged, is perhaps a view of the privileged who believes that "we are all equal" before laws, constitution and history, but we are not.
Over all construction pillars of a nation, non-white people have suffered historically and suffer consequences of a colonized society. Blood shed by these red stripes for something to be built, blood from us, "we the people".