When I was about 5 years old I started to have repeated visions of a family wearing gas masks. This image appeared specifically every time I looked down the hallway at my family home. The vision of the gas-masked family appeared to me coincidentally at the same time bad things were happening in my life. Therefore, I have always associated the family with gas masks image with negative feelings. So experiencing these visions was a very painful process. I frequently had nightmares with this family of my visions ended my peace of mind. When I was 23 years old I decided to transform this image of the gas-masked family into a staged photography.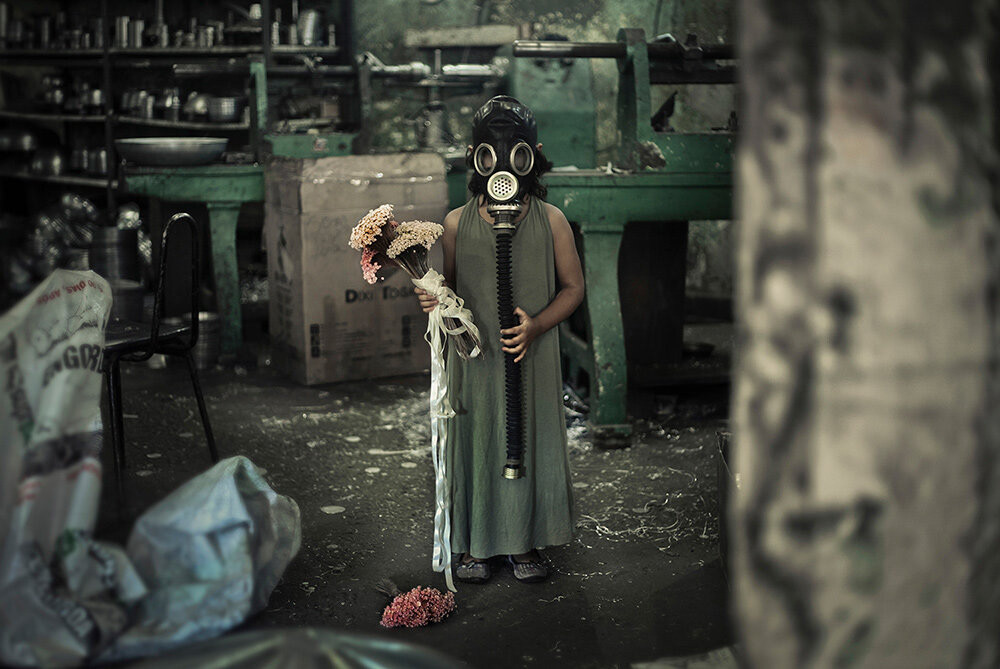 Once I had got the models for this photograph there was not doubt that I was going to given them a happy ending. I think that I had lived too long with the suffocating thoughts of this family with heavy masks and all the negative feelings associated with it. However, the turning point happened when I staged and photographed the "A Menina da Máscara de Gás (2012)" (The girl with a gas mask),shown above. By photographing the little girl with the mask I borrowed her presence to process and clean myself of all the bad feelings linked to the gas-masked family of my visions.

The sensation was exhilarating. I had the impression of removing the filter of my own imaginary gas mask and letting myself breath freely. I allowed myself to contaminate with the staged gas-masked girl and that allowed my to flourish to a new stage of my life even tough my surroundings remained chaotic. This photograph definitely freed myself forever from the gas-masked family hallucinations. I believe that by turning my vision into an object, in this case a photograph, allowed me to reprocess my past experience with the visions of the gas-masked people and consequently all hurtful feelings associated with it. Eloa is the little girl who worked as my model for the The girl with a gas mask. She worked as my mirrored imaged as she was about the same age I had when I started having the visions of a gas-masked family. I wanted to let Eloa know that she was a very important person in my life because she gave me her presence and gravitas so that together we were able to complete this catharsis.

This photo was part of the FotoEscambo collection, participating in photography festivals such as Paraty in Focus - International Photography Festival in Paraty (BR), Photography Festival in Sertão, among others.

Specfications:
Model: Eloá
Location: Beto Noffs