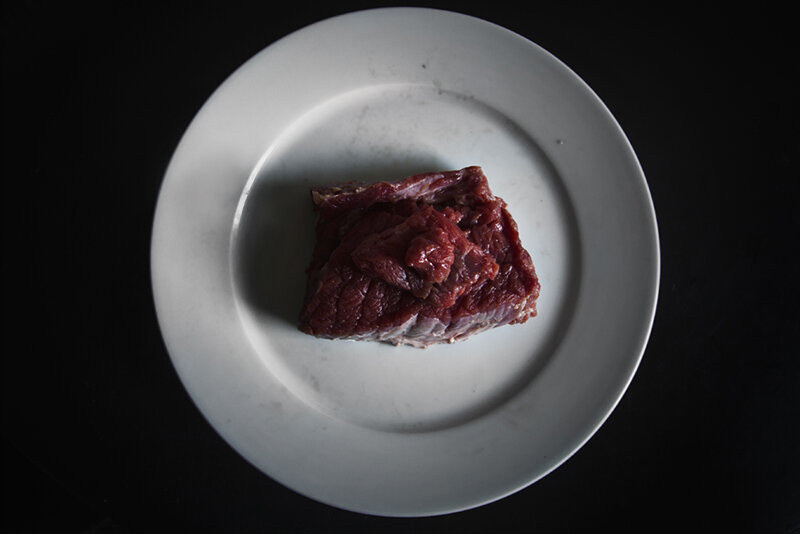 This artwork is about the environmental impacts of livestock, land structure and land use in Brazil and the impact on the Brazilian table.

Brazil is a production power, which produces much more than enough to end hunger and poverty in the country, however 24.8 million Brazilians lived in poverty, 53% more than in 2014, according to the IBGE (Brazilian Institute of Geography and Statistics).

Deforestation is a very common practice for farming. The removal of vegetation cover causes the reduction of biodiversity, extinction of animal and plant species, desertification, erosion, reduction of soil nutrients, contributes to global warming, among other damages.
In addition to environmental impacts such as: burning that intensifies air pollution, reducing soil nutrients, about half of all protein produced in the world is used as feed.

In Brazil 79% is transformed into feed, while only 16% is destined for human consumption. Although meat and meat products represent only 12% of the calories consumed globally, 75% of the world's agricultural land is used for grazing and feed production –

Gourmet is a photographic work, whose Brazilian flag was cut into beef. We are one of the largest agricultural producers in the world, but with an alarming level of miserable people, with 24.8 million Brazilians living in 2016 with an income below ¼ of the minimum wage per month, equivalent to R $ 220, or or 12.1% of the country's population live in poverty, as indicated in the Synthesis of Social Indicators (SIS).

The production, basic food, vegetable proteins intended for cattle is the gourmetization of probity and privilege.